A comprehensive eye exam goes beyond just your glasses prescription. It's a preventive health measure that can help spot early signs of eye diseases like glaucoma and macular degeneration before they become serious issues.
We know caring for your eyes can sometimes feel like a costly affair. But here's some good news for residents of Alberta—you may be eligible for free eye exams under the Alberta Health Care Insurance Plan (AHCIP). If you're 18 and under or 65 and older, your eye exams likely won't cost you a penny. Certain medically necessary eye exams, such as those for diabetes-related eye health checks, eye infections, injuries, or sudden vision changes, are also covered.
What Do You Mean By "Free?"
So, what do we mean when we say "free" eye exams? Simply put, "free" means the eye exam costs are taken care of by AHCIP, sparing you the hassle of paying out of pocket or dealing with private insurance claims.
Alberta Health has clear guidelines on eye exam coverage. Make sure to familiarize yourself with these to fully leverage the benefits you're entitled to for maintaining your long-term eye health.
Please note, however, that AHCIP provides partial coverage for optometry, which means there's a yearly cap on benefits. Picture it as an annual vision health allowance, lasting from July 1st to June 30th. If your optometry expenses exceed this limit, you'll need to pay the extra, either out of pocket or through secondary insurance.
What Are Eye Exams?
Regular eye exams are more than updating your glasses or contact lens prescription. They're a crucial part of maintaining overall health and well-being. Here's how:
Maintain clear vision: Eye examinations check for the visual function of both near and distant vision. Basic visual acuity screening can identify issues with your eyesight that might require correction.
Early detection of eye diseases: Regular eye exams play a vital role in identifying early signs of eye diseases, which can help preserve your vision.
Detection of other health conditions: An annual eye exam can also reveal severe health conditions like diabetes, thyroid disease, and high blood pressure, which you might not be aware of.
How Often Should I Have An Eye Exam?
The Canadian Association of Optometrists has a handy roadmap for eye exams. Here's the breakdown:
6–9 months: First exam
2–5 years: Second exam
6–19 years: 1 exam annually
20–64 years: 1 exam at least every 2 years
65+ years: 1 exam annually
Remember, though, these are just guidelines. Certain factors like age, overall health, family history of eye diseases, and specific visual needs can impact your eye health.
If you fall into a high-risk category or have a specific eye condition, your optometrist may recommend more frequent check-ups.
Free Eye Exams for Children & Seniors
While children, adults, and seniors could all be covered by AHCIP, children and seniors have more leeway with their coverage. For children 18 or under and adults 65 or older, Alberta Health can completely cover a specific amount of eye exams per benefit year (July 1st to June 30th).
These groups are eligible for 1 comprehensive eye exam, 1 partial eye exam, and 1 diagnostic procedure. So if you're 65 and over or have children under 19, ensure you're getting the most out of your AHCIP benefits.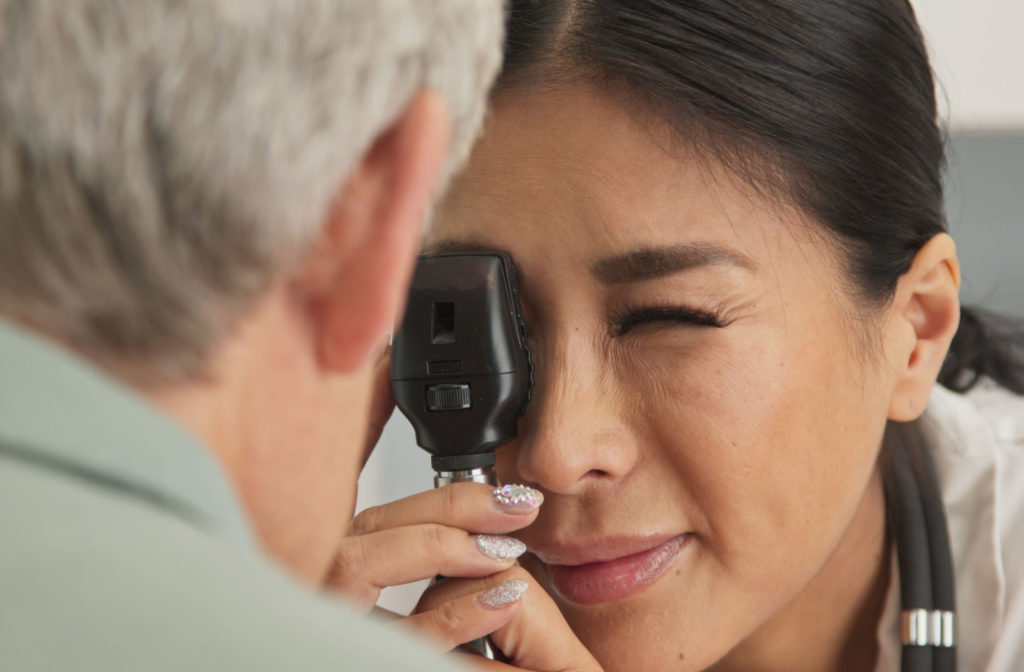 Who Else Can Get Free Eye Exams?
Albertans between 19 and 64 can still be eligible for full coverage if their exams meet specific criteria. For example, you may receive full coverage for some particular medical treatments by optometrists. But keep in mind, while optometrists typically won't charge for services covered by AHCIP, you could be responsible for additional treatment costs.
AHCIP could also cover your eye exams if your optometrist deems it necessary due to trauma, infection, or certain medical conditions or illnesses. Some conditions that could result in your eye exam being free include:
Diabetes
Foreign bodies in the eye
Eye injuries
Eye infections
Secondary testing/exams due to abnormalities or certain medications
Eye diseases, including glaucoma, cataracts, and macular degeneration
You can contact your optometrist to learn if your condition falls under these guidelines.
What Can I Expect From a Comprehensive Eye Exam?
A comprehensive eye exam can help people of all ages identify and manage various ocular health problems. Your optometrist has a range of tools and techniques to achieve this, including:
Medical History Evaluation
Your optometrist may start by asking about your medical history, any physical symptoms you may be experiencing, and queries related to your lifestyle or occupation that may impact your vision. Your responses help us identify risk factors and determine the appropriate tests for your exam.
Visual Acuity Test
One of the core tests administered during an eye exam measures how well you can see at various distances, usually with an eye chart. The standard eye chart consists of letters or numbers that decrease in size as they go down the chart. Some optometrists prefer screens, but the outcome should be the same.
Refraction Test
The refraction test is designed to determine whether you need corrective lenses. Your optometrist will likely ask you to look through a series of lenses to see which provides you with the sharpest image of an object.
The data gathered from this test can help determine if you need glasses or contact lenses and what prescription is right for your eyes.
Eye Health Exam
Your optometrist can use specialized equipment to examine your eye's internal and external structures. These tests can help diagnose conditions such as cataracts, glaucoma, macular degeneration, and dry eyes.
Other Tests
Based on your medical history, symptoms, and test results, an optometrist may recommend other tests to assess your general vision. These may include testing colour vision or eye movement.
Staying On Top of Eye Care
Catching potential eye issues in their early stages can help you avoid more expensive and severe complications down the line. Think of it as an investment in your future health!
Our team at Southwood Eyecare is here to help keep your eye care journey a smooth one. Whether you're using AHCIP or a secondary insurer, we strive to keep caring for your eyes simple so you can focus on what's important—your family's eye health. Book your next eye exam today, and let's work together for a future of clear and healthy vision!